"That" side of the cabinet…
This weekend we decided to go to Ikea – adult Disneyland – just to see what other new storage and organization ideas the genius engineers have invented. As we were walking through the organizational section our eyes immediately lit up when we saw the SKÅDIS peg boards!
We are a little embarrassed to even show you what our current set up was. Actually, we don't even have pictures of "that" side of the cabinet. This is the best we've got.
We have all seen the amazing pre-fab $400 controller cabinets. Our neurotic self wanted it so badly, but 2 things stopped us: 1) price and 2) we had built-in cabinets and we were not willing to figure out if/how a pre-fab box would fit. We also have an aversion to putting permanent nail holes into the cabinet – too much commitment. So, we decided that a Home Depot peg board would have to suffice. We had to cut this to size and then try to make it "look good" with white duct tape around the edges. Yuck!
When trying to build out this board, we found out very quickly that we were very limited on the hardware that we could use if we wanted the board to sit flush against the side wall. It also didn't help organize the cabling AT ALL. We ended up using a bunch of zip-ties and velcro, stuffed all the cables in the back, turned a blind eye, and went on with life – although every time we refilled the top off water in the cabinet, we were reminded of the mess.
Fast forward to this weekend… Ikea! As soon as we saw the SKÅDIS peg board, the 30″x 22″ version in the living room display, our eyes lit up and our minds immediately started whizzing with ideas. The board is mounted with a metal bracket up top and has 1 inch standoffs. It was PERFECT for hiding cabling behind the board. Then, we looked at the size of the board again and our heart dropped. The board size would have to be modified to fit the cabinet.
We left the living section and sulked a little bit while pondering if it may still be worth it if we had to modify the size? Then, we turned the corner into the office section and low and behold…. it came in 2 additional sizes! 14.5″x 22″ was the size we needed – no modifications necessary. Best part – it's only $17.99*! Back on cloud 9!
Of course Ikea has everything covered and has a bunch of accessories to mount and hang anything you could possibly need in normal day life. As we all know, nothing in reefing is easy and nothing in reefing is "standard."
Luckily, this is exactly why we had gone into the 3D printing world! We have designed each mount to fit each controller exactly with no wiggling and with extra support. The only modifications that we did to this board was add cable holes. We didn't want anything that stood out so we simply cut 2 horizontal lines that connected 2 holes. Tip: don't glue in the cable grommet right away (or at all!). This allows more flexibility to squeeze in slightly larger connectors. Check it out for yourself.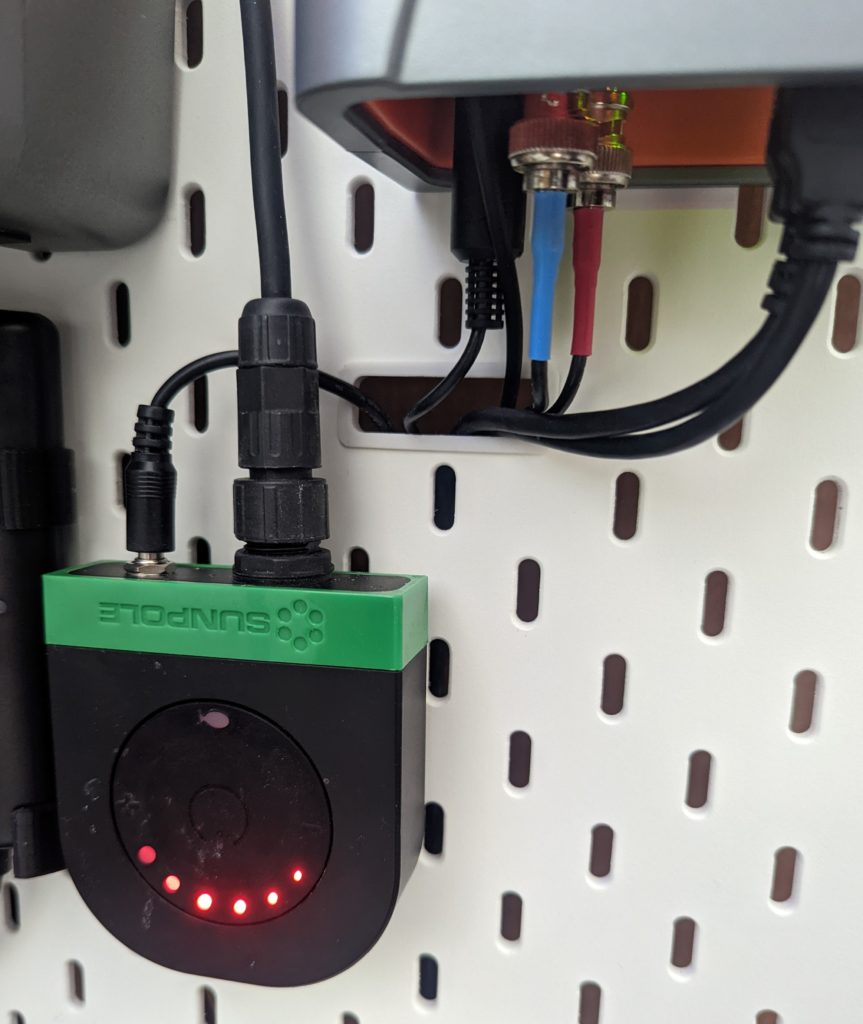 Like we mentioned, we do still have an aversion to putting permanent nail and screw holes in the cabinet. And like we have mentioned other posts, it should be no surprise that we used nano-tape instead to adhere the top bracket of the peg board to the cabinet.
Anyone want to see the back side? Here it is!
If we had more patience, we probably would have ordered and waited to use these cable clips. All we had on hand were the medium white clips, which were just the right clearance anyway.
Luckily, another great feature to this peg board is how easy it is to remove and access the back side. There are no screws on the bottom – just stand-offs. At the top there are two screws that connect to the bracket. Remove those 2 screws and the entire board comes out. So when the new clips come, it will be Super Simple to install them.
We hope this helps brings some organizational relief (at an affordable price) to some of you as it did for us! Now we will be proud to show off "that" side of the cabinet. Let us know how your DIY turns out! Happy Reefing and remember to keep it Super Simple.